A rich and rewarding history in the community
The Langton Arms is a beautiful award-winning 17th century thatched country pub with its own restaurant, function room and private gardens. Nestled in the heart of the rolling Dorset countryside in Tarrant Monkton, there are six en-suite bedrooms if you fancy staying over. The pub can be found at the heart of this chocolate box village, far from the hustle and bustle of modern life. It sits opposite the beautiful All Saints Parish Church which dates back to the 15th century.
Voted Best Pub in Dorset by The National Pub & Bar Awards 2016 and has also winner of the prestigious Best Food Business Taste of Dorset Award 2015. Our owner and landlady Barbara Cossins was awarded Businesswoman of the Year for Dorset 2016. Here she talks about the pub and what makes it such a special place.
The pub has been owned and run by Barbara for nearly 25 years. The Cossins family have been farming in the Tarrant Valley for five generations and still raise traditional cattle breeds of Aberdeen Angus and Herefords. This wonderful local meat supplies the pub menu and is also available from the family-run butchery in Tarrant Rawston, offering traditional cuts of meat, poultry, seasonal game and sausages.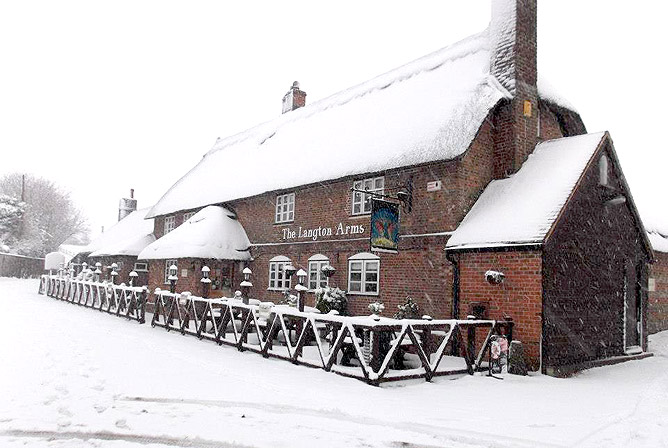 The fall and rise of The Langton Arms
In 2004 a fire ravaged the main thatched building bringing 14 fire engines to put it out and almost completely destroying the whole pub. Barbara and her team worked day and night to rebuild the damaged parts of the building as well as the business itself and opened for its first wedding only a week later. Today, The Langton Arms is stronger than ever and opens its doors seven days a week to water, feed and entertain both locals and vistors from far afield.